Join Rick as he shares his passion for Olive Oils and the benefits of incorporating them into your cooking and diet. You will be excited to learn some new tips and tricks, recipes and enjoy some sampling!
Wendy is our cookie decorator extraordinaire!
"Along the way I have discovered a number of "tricks" in doing cookies that I wish I had known when I started.  Things like:  the best thickness for cookies, how to get the right icing consistency, which icing bag is best to use, how to decorate you cookies for a dimensional look, how to handle "wet" cookies and how much drying time is needed." These things are the foundation for being able to do cookies effectively.
Chef Erika
Join Chef Erika as she gets back into inspiration for Fall cooking.  Chef Erika will guide us through food prep, a Fall recipe and a tasting!

Beyond Digestion with Dr. Laura Brown: How GUT Health Connects to Your Mind, Body and Soul
Do you have trouble digesting the world around you? The onset of digestive and gastrointestinal issues often begins in times of grief, abuse or other major negative life events. When the mind can't digest its reality, the body stops digesting its food – literally.
In this workshop, Dr. Laura Brown will address the many ways in which your gut health relates to the overall health of your mind, body and soul. Even your mood can be a reflection of, or reaction to, what's going on in your gut.
Learn how to:
Get to the root cause of your health problems
Detoxify your gut
Harmonize your sleep and body rhythms
Strengthen your immune system and balance your hormones
Regulate your emotions
Tune in to your body's inner wisdom
Connect to your primal source of energy transformation
About the Presenter: Dr. Laura M. Brown, bestselling author and registered naturopathic Doctor with a functional medicine approach. She focuses on stimulating the body's natural mechanisms to repair damage and rebuild health. She is a HeartMath Certified Practitioner, a level two Certified Gluten-Free Practitioner and holds the designation of ADAPT Trained Practitioner from Kresser Institute, the only functional medicine and ancestral health training company. Titled Miss Teen Ontario at age sixteen, Dr. Brown battled many health challenges of her own, ultimately prevailing through naturopathic medicine. Personally, she writes, gardens hikes and entertains on 20 beautiful acres in the heart of Ontario, Canada. Learn more about her practice at southendguelph.ca
Essentrics – Aging Backwards Exercising/Essentrics – A Full Body Workout!
Join Marissa as she shares about the benefits of Essentrics, a full body exercise program that works all 650 muscles of the body.  Essentrics is a lengthening, strengthening, slenderizing and toning program and is suited to all ages.  Based on a unique scientific formula to rebalance the body, Essentrics is made up of everyday-type movements, many of which follow circular patterns aimed at rebalancing the muscles and joints.  Essentrics will improve posture, increase flexibility, rebalance the body, reduce pain and help with weight loss.
This program was developed by Miranda Esmond White, former ballerina in the Canadian National Ballet.  She works with Olympic athletes, professional athletes and general public.  Her PBS show Classical Stretch has been on TV since 1999.
Fall is the perfect time to dive back into our health and fitness routine.  Please join Lori, for this fun and interactive workshop that discusses the incredible impact movement and moving well has on living a pain free life.  She will discuss the top 3 most common areas of injury (shoulder, low back, knee), the things people do that keep them injured and provide tips to get you moving pain free as you "Fall" back into fitness!
Lori Bowman is a Personal Trainer, Level 1 Fitness Coach and Movement and Performance Therapy Specialist.  She is the owner of BowFit by Design.  Lori's worked with clients of all ages as well as Jr. sports teams.  She is passionate about helping clients regain control of their bodies and to reach their fitness goals.  Her functional approach to training focuses on restoring mobility and stability and establishing proper movement patterns to build foundations for strength.  She believes in training smarter not harder, with emphasis on awareness, education and injury prevention.
Donato Décor
More info coming soon.
Gardening and Floral Design
Royal City Nursery
More info coming soon.
Guelph Horticultural Society
More info coming soon.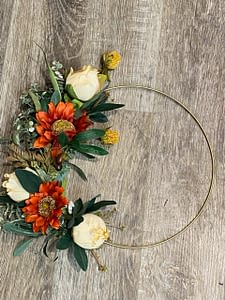 Join Lisa of Designs by Lisa to create this gorgeous Fall Wreath for your front door or interior space.
Lisa will supply everything that you need and give step-by-step instruction on how to make this Fall accessory for your home.
Cost:  $20 additional fee to participate in this class.  Space is limited